Mill City Dart League - Merrimack Valley Div.
Treasurer:
Melanie Nigrilli
Vice President:
Erin Mcgann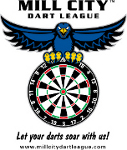 League History & Membership Information
Mill City Dart League was founded June 1, 2009. The league was created to give players a chance to play more darts and to compete for monetary awards more than trophies and plaques. The concept was also created to be a non-profit dart league that would give back to the communities that our players play in. On January 14, 2013 the MCDL expanded to 2 nights and 3 different regions. We are proud to announce that we are at a total of 148 Teams as of 01/14/13.