Toronto Player's Dart League
League Co-ordinator:
Paul LeBlanc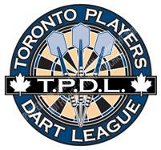 League History & Membership Information
Formed in September 2011, the Toronto Player's Dart league is a new type of league designed by Players for Players.

Combining both cricket and 501, play consist of 4 person teams playing up to 20 matches a night. While teams are encouraged to carry 5 or 6 players, the format allows for giving players more darts than typical league nights.

Also, using a unique Round Robin format to singles matches, each player will play every other player in their division during the course of a season, making this league a virtual singles league within a team league.

Players can develop at their own pace, choosing to play more games or less games, depending on their individual focus.

In addition, the format will encourage newer players to come out and join in our bonus game system at the end of matches (time permitting), and at events held by the league throughout the season.